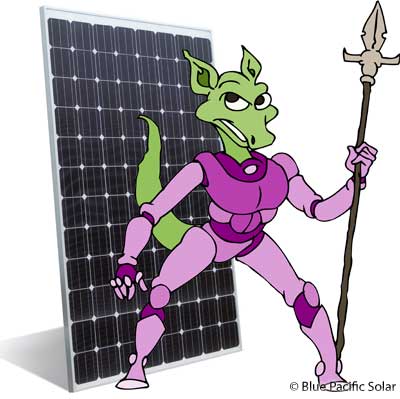 There has been a trend for some time with some of the more forward thinking solar manufactures going to larger solar panels. This is more of short lived fad, but rather an opportunity, especially for American based solar panel manufactures to capitalize on their unique advantage over Chinese panel manufactures which is less shipping costs.
Freight adds a substantial non-value added cost to the price of solar panels. Helios Solar Works has taken a giant step forward to utilize their central US location and gorilla marketing tactics. Really smart of some folks over at Helios. Why? I recently helped a homeowner put together a 30 panel system in Wisconsin where we started with the more common 245 watt panels. Trouble was we could not get all the power the homeowner wanted on the roof of his shop. By simply switching to 300 watt panels, we achieved his goal of 7 kW + and kept his cost more in line with his budget.
Fast forward just a few months. Helios has recently come out with their 9T6 400 watt series panels. Though this monster weighs in at a hefty 75 lbs, this 96 mono-crystalline cell beauty is a sight to see.  Solar panel manufactures has long sought ways to cut down on the amount of space taken up over a solar cell which even so slightly restricts rays of the sun from being fully exposed. The more of the solar cell that is exposed, the higher the panels output. No question about it, high-performance large modules offer higher efficiency and lower installation costs because they cover with less labor and less roof racking needed.
Helios Solar Works is headquartered in Milwaukee, Wisconsin. They manufacture their solar panels using materials sourced from regional and U.S. suppliers whenever possible. Manufactured end-to-end in Milwaukee, Wisconsin (USA) using Helios Solar Works advanced, automated platform and a local workforce makes Helios and American sucess story they should be yelling about in Washington.